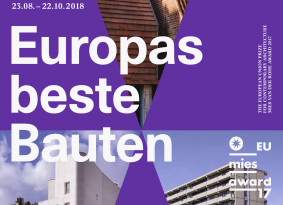 Exhibition of the European Union Prize for Contemporary Architecture – Mies van der Rohe Award 2017 in Vienna, Austria
The EU Mies Award 2017 exhibition is travelling across Europe to disseminate and acknowledge quality architecture. After being in Barcelona, Brussels, Heerlen and Warsaw reaches a new venue on its itinerancy at Architekturzentrum Wien, in Vienna, Austria.
The results of the EU Mies Award 2017 are presented as a tour of the best architecture built in the last two years, a critical look at contemporary European architecture to be enjoyed by all citizens.Videos, images and models of the Winning project, DeFlat Kleiburg in Amsterdam, by NL architects and XVW Architectuur and the Emerging Architect Winner, Navez social housing in Brussels by MSA/V+ as well as the finalists Kannikegården, Ely Court, The Rivesaltes Memorial Museum, Katyn Museum and 40 shortlisted. The works are displayed according to the urban fabric where they are located: Exo-urban, Periphery, Consolidated and Historic Centre; the parts that construct for this exhibition an imaginary "City of 40". The EU Mies Award is an architecture prize with a European vocation that celebrates urban fragments of excellence.
This exhibition also comes with other interesting features:
The EUmiesaward App allows you to find and get the directions to go and visit all the 2017 nominees and the newly included Austria, Poland, Belgium, The Netherlands, Spain, Malta, Luxembourg, Cyprus, Slovakia and Albania nominated buildings since 1988. Available for free on Android and iOS.
Date: Exhibition 23/08/2018 to 22/10/2018
Place: Architekturzentrum Wien