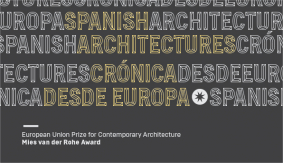 Exhibition opening "Spanish Architectures: Crónicas desde Europa"
Date: 06.09.2018 > 28.10.2018
Place: Sala d'exposicions La Arquería de Nuevos Ministerios, Madrid
We invite you on September 6th at 7:00 p.m. at the opening of the exhibition "Spanish Architectures. Chronicle from Europe" in the Exhibition Hall La Arquería Nuevos Ministerios in Madrid.

The exhibition presents all the projects nominated for the European Union Prize for Contemporary Architecture – Mies van der Rohe Award realized by Spanish architecture studios as well as projects built by studios from the rest of Europe, in Spanish territory.

The projects have been highlighted, analyzed and debated by independent experts and international juries who have contributed to the recognition and dissemination of contemporary Spanish architecture.

The exhibition features models, photographs, drawings, texts and interviews and offers cultural, social, technological, political and economic context referring to events that took place in Spain and Europe since the country joined the European Union.

We look forward to your presence!