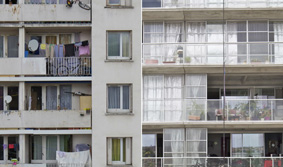 Opening of the EU Mies Award 2019 exhibition in Brussels -
On the occasion of the inauguration of the EU Mies Award 2019 exhibition, BOZAR, the European Commission and Fundació Mies van der Rohe hold a debate with the winner and the Belgian finalists of the European Union Prize for Contemporary Architecture.
The jury of the EU Mies Award 2019 — chaired by Danish architect Dorte Mandrup — sent a clear message to the international architectural community when choosing the renovation of the three social housing projects by architects Lacaton-Vassal, Frederic Druot and Christophe Hutin. The award winners questioned the almost recursive decision of demolishing a building that no longer officially met today's requirements for comfort or aesthetic. Transforming the existing (building or public space) and focusing on a sustainable circular economy is also one of the major aspects presented by other selected projects.
The finalists Christophe Hutin, Gideon Boie and Freek Persyn will meet on September 12 at 7pm, led by Lisa De Visscher, Artistic Director of A+ Architecture in Belgium.
OPENING: 12 SEPTEMBER'19 7pm. Free entry, upon registration: here
EXHIBITION: 13 SEPTEMBER '19 — 17 NOVEMBER '19. Free entry

BOZAR/Centre for Fine Arts: Rue Ravensteinstraat 23. Brussels, Belgium