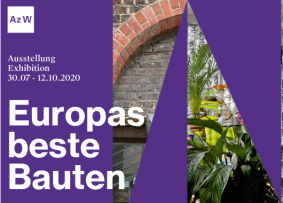 Exhibition "Europe's best Buildings" - The European Union Prize for Contemporary Architecture. Mies van der Rohe Award 2019
Every two years, the exhibition "Europe's Best Buildings" focuses on outstanding architectural projects from Europe and has thus become a magnet for the public. It honours projects whose visionary character serves as an orientation, if not a manifesto for the development of contemporary architecture.
This year's award goes to a pioneering housing development project: the transformation of three apartment blocks from the 1960s in Bordeaux with a total of 530 units, by Lacaton & Vassal in collaboration with Frédéric Druot and Christophe Hutin. The other finalists' projects range from a public square in Tirana, Albania, to new combinations of living and working in Berlin. The Emerging Architect Prize was awarded to BAST for the extension of a village school in Montbrun-Bocage, France. From the almost 400 projects nominated from 36 European nations, a total of 40 projects were selected for the exhibition by the distinguished jury, of which the Az W Director Angelika Fitz was a member. These include three projects from Austria: the state school in Seestadt aspern by Fasch&Fuchs and a housing development by Vlay Streeruwitz in Vienna-Floridsdorf as well as the Haus der Musik by Erich Strolz and Dietrich Untertrifaller in Innsbruck.
Catalogue
An exhibition catalogue presents all the nominated projects and is available at Az W as part of the exhibition and at shopmies.
Date: 30.07.2020 – 12.10.2020
Opening day: Wed 29.07.2020, 14:00–20:00, Admission free
Place: Architekturzentrum Wien – Exhibition Hall 2 - Museumsplatz 1, Vienna

Guided tour: Tue 11.08.2020, 17:30-18:30
Guided tour with Angelika Fitz, Director Az W and jury member. Tue 18.08.2020, 17:30-18:30