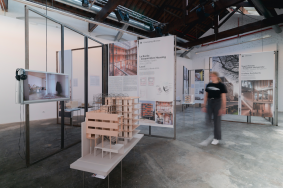 EUmies Awards 2022 Exhibition - Barcelona
On the 1st of May the "EUmies Awards 2022 exhibition" with the models, texts, videos, sketches and drawings of the 40 shortlisted works and a summary of all 532 nominees opens its doors in Espai Serrahima – Esklandestino (4-minute walk from the Pavilion). The exhibition will be open until the 12th of May, the day of the celebration of the Awards Ceremony.
On the last day, the exhibition will be open all day long from 11:30 to 00:00. And at 19:30 there will be the Celebration while visiting the exhibition.
_
Date: 1-5-2022 <12-5-2022, 10:00h - 20:00h
Place: Espai Serrahima – Esklandestino, c/Mèxic 3
Free entrance