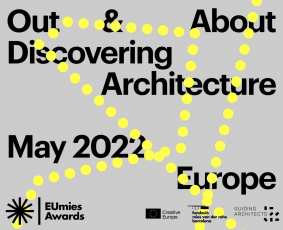 OUT & ABOUT - Discovering Architecture. EUmies Awards 2022
"Out & About. Discovering Architecture. EUmies Awards 2022" will take place next May in over 25 European cities in which shortlisted works of the prize are located. Organised by Creative Europe, Fundació Mies van der Rohe and the indisputable expertise of Guiding Architects, citizens will have the opportunity to know much more about projects in their cities or in places that they are visiting with the authors, clients and people who know them well.
Check the info here: Guiding Architects
→ The 40 Shortlisted works of the EUmies Awards 2022, located over 25 European cities, will open their doors during the month of May.
→ The authors and promoters of the 40 shortlisted works of the prize have been invited to organise events in their projects and share their experiences with everybody.
→ Guided tours, lectures and exploring the backstage of buildings will allow citizens to discover what makes an architecture project.
CALENDAR & RESERVATIONS:
Helsinki Olympic Stadium, Helsinki
K2S Architects Ltd; Arkkitehdit NRT
04-May
A guided tour of the stadium with a brief lecture presentation about the design process by the architects.
85 Social Housing Units in Cornellà, Cornellà de Llobregat
peris+toral.arquitectes
06-May
Guided tour by Peris + Toral Arquitectes.
Marquês de Abrantes' Palace, Lisbon
Trabalhar com os 99%, CRL; ateliermob
06-May
The doors of the Palace Marquês de Abrantes will be opened by ateliermob architects to share knowledge and experiences.
Town House, Kingston University, London
Grafton Architects
6/9/18/23 May
A unique opportunity to take a guided tour of Kingston University Town House.
Recovery of Merola's Tower, Puig-Reig
Carles Enrich Studio
07-May
Guided tours by Carles Enrich to the Torre de Merola.
Wadden Sea Centre, Ribe
Dorte Mandrup A/S
07-May
Join a guided tour of the Wadden Sea Center: a building where tradition, landscape and functionality meet.
Revitalisation of a Town House, Linz
mia2 ARCHITEKTUR
7/17 May
Guided tours with Sandra Gnigler, partner of mia2 ARCHITEKTUR.
Z33, Hasselt
Francesca Torzo
7/14/21/28 May
Architecture tour with a view behind the scenes.
Portas do Mar - public space and car parking, Lisbon
Carrilho da Graça, arquitectos
09-May
Decode the meanings and chronological density of the Campo das Cebolas renovation with the office Carrilho da Graça.
Vertical Farm [La Cité Maraîchère], Romainville
ilimelgo; Secousses Architectes
10-May
Cité Maraichère tour by the designer of the building.
Atelierhaus C.21, Vienna
Werner Neuwirth
13-May
Lecture by architect Werner Neuwirth and open house from the foyers to the roof terraces.
Tikkurila Church and Housing, Vantaa
OOPEAA Office for Peripheral Architecture
13-May
Open House with Anssi Lassila, Iida Hedberg, Tuuli Tuohikumpu / OOPEAA; Meri-Anna Paloniemi and other representatives of the Vantaa Parish.
Schulcampus Neustift, Neustift im Stubaital
fasch&fuchs.architekten
13-May
Lecture and School visit by and with the architects
Fabra & Coats & Social Housing, Barcelona
Roldán+Berengué, arqts.
14-May
Guided tours with the architect Anna Noguera and a collective zumba class afterwards.
Housing Rack / Pre-fab House in Berlin, Berlin
FAR frohn&rojas
15-May
Site Inspection Pre-fab House in Berlin Tour with Ticket B and FAR Frohn + Rojas.
Malt Factory, Ebeltoft
Praksis; VMB restoration Architects; Kirstine Jensen; Morten Skovmand; Henry Jensen
17-May
The Malt Factory - a platform for community and cohesion with director Kristian Krog and Mette Tony from Praksis.
Apartments building Mumuleanu 14, Bucharest
ADN Birou de Arhitectura
19-May
Open doors at ADNBA with an exhibition of ADNBA's work, accompanied by a special presentation of Mumuleanu 14.
Neue Nationalgalerie, Berlin
David Chipperfield Architects
19-May
Guided tour of the Neue Nationalgalerie with welcome by the deputy director Dr. Joachim Jägr.
The Great Synagogue Memorial Park, Oświęcim
NArchitekTURA / Bartosz Haduch
19-May
Bartosz Haduch and Łukasz Marjański will talk about the history of the project and its assumptions, and invite the participants for a tour of the park itself.
Local Activity Centre, Rybnik
Marlena Wolnik / MWArchitekci
19-May
Local Activity Center - On the Way From Rybnik to Barcelona
New Gallery and Casemates / New Bastion, Wiener Neustadt
Bevk Perovic arhitekti
20-May
Guided tours with Manfred Korzil (chief building director, Wiener Neustadt) and Johannes Paar (project leader, bevk perović arhitekti)
Gleis 21 - We bring the village to the city, Vienna
einszueins architektur
21-May
Architecture, Literature, Music. The multifaceted richness and radiance of the Gleis 21 cohousing project can be experienced during the architectural tours with Markus Zilker and Annegret Haider from einszueins architektur.
Turó de la Peira's Sports Centre, Barcelona
Arquitectura Anna Noguera; J2J architects
21-May
Guided tours with architect Anna Noguera and a collective zumba class afterwards.
Vizafogó Kindergarten, Budapest
Archikon
21-May
Interior tour with the architects of Archikon, the deputy district mayor and the Budapest member of Guiding Architects.
Second Home Holland Park, London
selgascano
21-May
Open house and gallery - exhibiting the history and design of our workspace. Complimentary tours conducted throughout the day by our membership team.
Pierres Blanches Cultural Centre, Saint-Jean-de-Boiseau
RAUM
25-May
Visit with the architects, users and client.
Enrico Fermi School, Turin
BDR bureau
27-May
A school open to the city: Enrico Fermi opens for the EUmies Awards. Interior tour with the architects and party opening the building to the neighbours.
La Borda - Cooperative Housing, Barcelona
Lacol
28-May
Guided tour with La Col cooperativa d'arquitectes.
Hill House Box, Helensburgh
Carmody Groarke
28-May A guided tour of the Hill House Box by Carmody Groarke.
Prague Eyes - Riverfront Revitalisation, Prague
Petr Janda / brainwork
28-May Windows to the world: A three-stop architectural walk along the Vltava embankment.
Frizz 23, Berlin
Deadline (Britta Jürgens + Matthew Griffin)
29-May
Site Inspection Frizz 23 in Berlin with Ticket B and Deadline Architekten.